LIGHTING
Even if people often only perceive it subconsciously, lighting is omnipresent in everyday life and the necessary solutions are as diverse as the companies active in the industry. Through the fundamental transformation from conventional lighting to efficient LED, the industry has experienced a paradigm shift in the last decade that continues to have an impact today.
At the same time, the still highly fragmented industry with many small niche providers must face the challenges of global competition and increasing customer demands. M&A, the buying and selling of companies, is now an integral part of strategic considerations by company owners in the industry.
Aquin has developed into the leading M&A advisory firm in the European lighting industry through a large number of supported lighting transactions (15 to date) and has an industry expertise in this area like no other transaction advisor. Thanks to our lively network with decision-makers in the industry and investors with an affinity for lighting, as well as our deep understanding of the business models and core values of lighting companies, we can optimally represent our clients in the M&A process.
M&A IN LIGHTING – FACTS, FIGURES, BACKGROUND
AQUIN'S VIEW OF INDIVIDUAL LIGHT SEGMENTS
From high-quality designer luminaires to sophisticated architectural and shop lighting, high-performance lighting for streets, public spaces and facilities, robust products for industry and, finally, special applications such as in medical technology, signalling systems, tunnels or automobiles – the fields of application in the lighting industry are almost unlimited. These are the segments in which we have been active to date:
PUBLICATIONS
Does Corona block the light?
07.2020 – Martin Kanatschnig, Dr. Kurt Gerl in: HIGHLIGHT 7-8 2020
Harsh winds on the lighting market
10.2019 – Martin Kanatschnig, Dr. Kurt Gerl in: ElektroWirtschaft – Light-Special 10/2019
Lighting in jeopardy?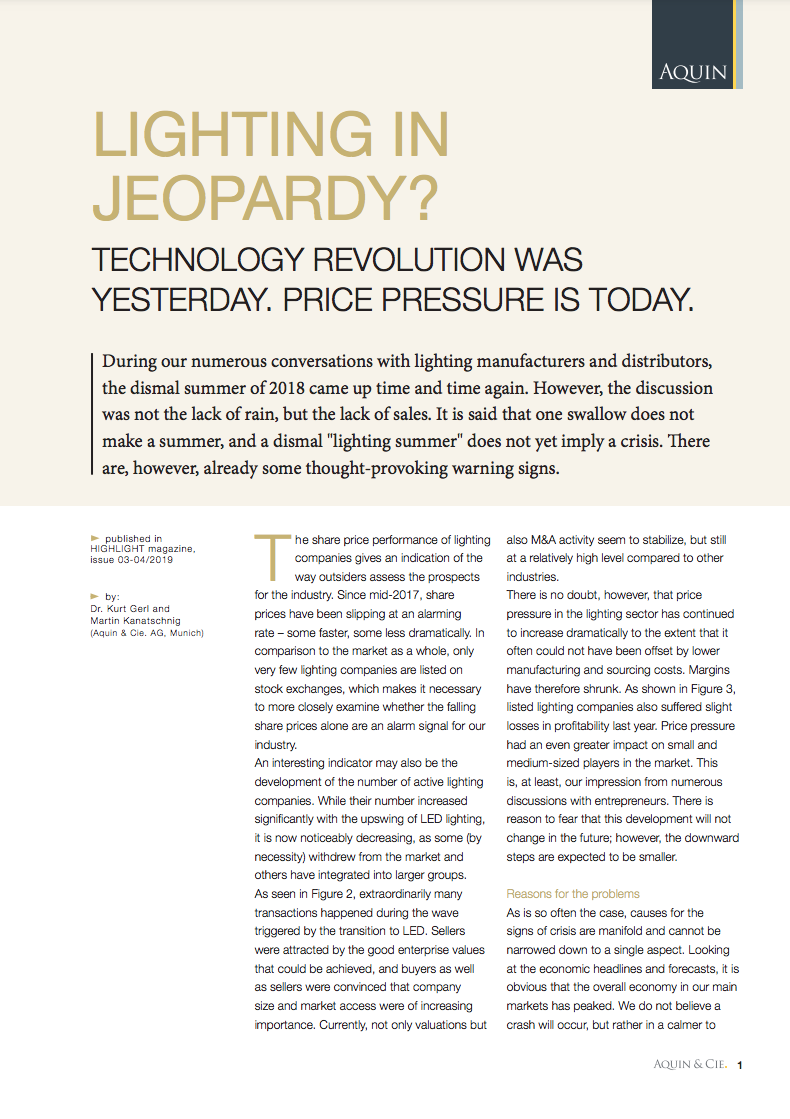 03.2019 – Dr. Kurt Gerl, Martin Kanatschnig in: HIGHLIGHT 3-4 2019